T
hree nights; two very full days … that was Delhi, a city so vast and diverse that much more time could be devoted.  But with a total of just 10 days in India, one must move on. Prior to leaving, we enjoyed dinner at the Imperial Hotel — a must see if you're a fan of the classic colonial style from the 1900's. We dined at 
San Gimignano
, offering authentic and delicious cuisine … sans alcohol due to a mandatory "Dry Day" prior to the impending local elections.   The next day, we boarded our private van for the 3.5 hour drive to Agra.
W
e were told by driver Akbar we were on the fastest and most efficient road in India.  He explained the absence of large trucks as the result of expensive tolls imposed.  The truckers are therefore forced to use an alternate road, which same drive takes six hours!
A
rriving at the first of several Oberoi properties (specifically 
Amarvilas
 in Agra) to be savored on this trip is remarkable in itself, as just outside the walled property is significant evidence of poverty.   We were promised a view of the Taj Mahal from our room (and from many other enormous windows in the property), which did not disappoint save for the less-than-clear air.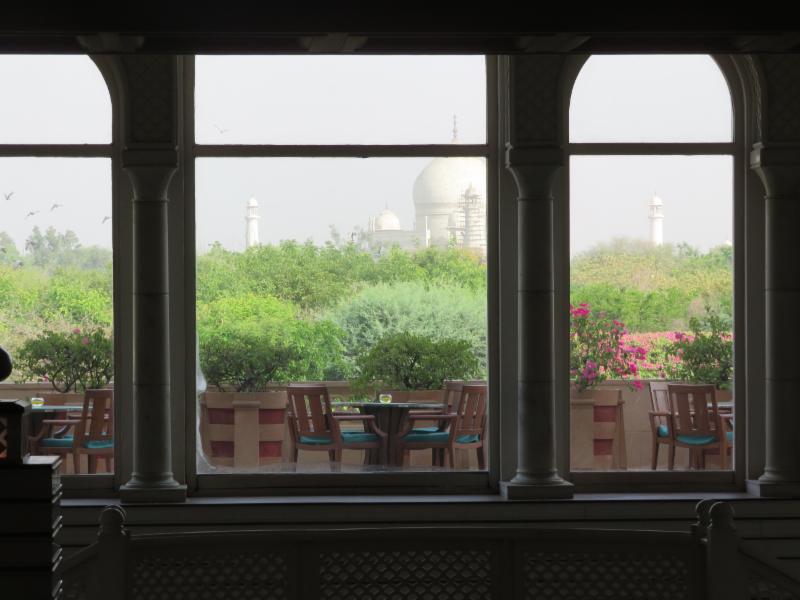 From the hotel lobby
Afternoon in the main part of Agra — these are water buffaloes who couldn't care less about vehicles around them.
Checking her email??
W
ith barely a day to spend in the area, no time was wasted and we were off first to 
Agra Fort
.   It was hot — probably 110F — which required perseverance on my part; not so the hubby and Aunt Judy traveling with us.  The architecture, inlaid marble and sheer size are most impressive.  After an hour or so, it was back to the hotel to switch to a golf cart for transport to the Taj, just a few minutes from the hotel, in time for a sunset viewing.
Two photos of Agra Fort above; it's way too vast to do the structures
and grounds justice in a few photos.
S
ecurity is quite tight, with men and women going through different scanners and pat-downs.  Finally, this iconic sight was upon us — one of seven or eight
Wonders of the World
 depending upon which list is consulted.  In case you're curious, we've been to five:  Machu Picchu, Pyramids, Colosseum, Great Wall, now the Taj Mahal, and the hubby has been to Christ the Redeemer in Rio.  No Chichen Itza or Petra, Jordan — yet.
I
t is a remarkable sight, no question.  We had been told in advance that there would be some scaffolding, but that hardly mattered.   And to think that this was built solely as a shrine to a wife (the emperor's favorite) should give most husbands pause! Not much more can be written, but rather photos to be treasured.
View 

FROM

 the Taj Mahal of the entrance.
W
ould not have thought of coming to India without this ever-so-brief stop in Agra. Next we are off via train to Ranthambhore and a couple days on safari …