A
n island jaunt
proved to be just the thing one needed, especially with an early-morning departure November 9th.  Nothing like gorgeous white sand and pristine turquoise water to provide a respite from all the noise that surrounds the never-ending news (especially in my political household).
F
ive glorious nights in Turks & Caicos, just 1-3/4 hours southeast of Miami. Only wish it had been longer, but I'll take whatever time we had.  
Turks & Caicos — located in the North Atlantic,
southeast of the Bahamas
D
oes it seem like a long way to go for a relatively short trip?  Maybe. Perhaps for some.  But when you think about one longish plane ride and one very short one with little time in between, it passes quickly. Since the Hubby and I decided several years ago to add a November trip that would be the antidote to the non-stop movement of our big April trip (i.e., pretty much find white sand and do nothing), it's been fun ticking off various 
island resorts
 visited.
W
aking up with much anticipation after an evening arrival is fun … will the setting be as gorgeous as depicted on the website and in magazines? Happily that answer is yes! Grace Bay Club (part of Leading Hotels of the World) is one of three T&C resorts offered via Amex Platinum Fine Hotels.  An 
Aman
 property is at the top of that list, but their rates are staggering. Nothing in T&C would be considered "affordable" by most (more on that later).  We discovered from our patio doors, it was a straight and short path directly to the beach. That's about as close as one can get!  The accommodations are not the most luxe experienced (even with the upgrade to a one-bedroom suite), but very spacious with a comfy bed and vast cable selection on two SmartTV's.  No, we're not here to watch TV but it's nice to have that available. College football is in the thick of the season, and the hubby was happy to watch important games late at night (local time is an hour later than east coast). But I'm thinking someone quite tall came up with the idea to locate the room safe on the closet's top shelf — not the best idea.
            Straight from our patio to the beach.  Pool is off to the left.
     In the relaxing and quiet "Adults Only" pool —
there is another one for families
S
ervice is attentive, welcoming and very friendly but not what I would consider polished (like blowing our wake-up call).  We were given a cell phone with a direct line to our duo of dedicated concierges who help with anything and everything … typically restaurant reservations and outdoor activities.   All accommodations include a mini-kitchen (coffee maker, small fridge, microwave and even 2-burner cooktop).  I literally run from hotel rooms equipped with anything that reminds me of what I do at home, but it can be convenient — especially with a simply curated checklist of staples ready to be acquired and delivered (milk, cereal, diet coke, spirits).  Careful, though — the cost for the aforementioned soda six-pack was an eye-opener.  In fact, with just three things native to T&C — conch, lobster and sand — costs are high as everything must be imported.  
Two conchs right out of the shell.  One is male and one is female.  Pretty obvious which is which.  Most of the front portion is removed and thrown back in the sea (eaten by fish); the rest is deliciously evidenced in the ceviche (below)
H
aving no agenda other than pool time and a spa visit (excellent), we were fortunate to encounter T&C guru Marty at the pool for restaurant recommendations (
Coyaba
; 
Caicos Cafe;
Le Bouchon
,
Coco Bistro
)  We figured he knew the area fairly well as he had just made his customary return to the resort from his home in Boston .. for the entire winter. He provided excellent guidance, needless to say.  
T&C, while officially a British Overseas Territory, could easily be a part of the US.  It is on the US currency and electrical current (no adapters or converters!), and everyone speaks English.  Yet one distinctly feels that they have left the country for sure.
Grace Bay beach in front of the hotel 
S

norkeling is always at the top of the list for a beach trip.  Island Vibe Tours 
literally pulled up in front of the resort for a half-day outing. We enjoyed chatting with folks on board from all over the US and a couple of avid travelers from Sweden as we collectively marveled at the turquoise water.  After a few stops we ended up having an opportunity for a last dip via diving off the boat (maybe 15′ from the top) or with the water slide. We all encouraged one another and got quite chummy. Somehow everyone knew the hubby by journey's end, as evidenced when we got off the boat to "Bye, Bruce! Take care, Bruce! Nice to meet you, Bruce!"  Yep, I'm forever "Bruce's wife."   
One of the nearby cays visited on the snorkel boat
Below:  I look like I'm saying a prayer just before descending — the man in the red trunks is on the diving board from which the hubby jumped (as did I).  What the hell were we thinking??? 
After the above activities, believe me, I was tempted!
Fortunately cooler heads prevailed.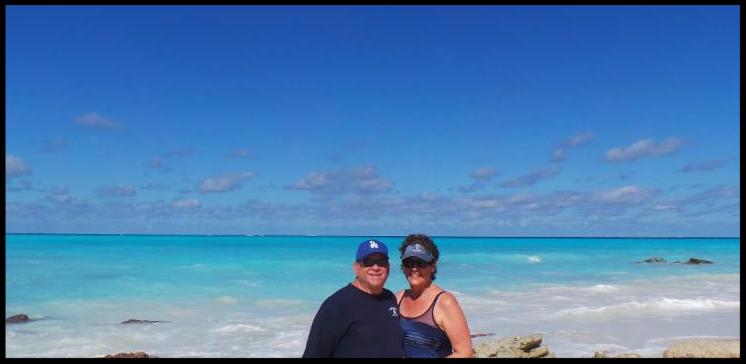 Are you thinking about going somewhere but are stuck getting started?
Do you need some ideas and/or expertise in planning your next adventure?  an
Instead of spending your valuable time, send me an email (travelwithterib@gmail.com) — and let me help you with all your travel needs!