T
his summer's road trip (click here for previous posts) included Napa for two nights. Happily, 
t
he solution to finding great accommodations in Napa without spending a fortune (not easy) was achieved with a stay at the Andaz downtown Napa. We saw first-hand the tremendous building boom occurring in the area. And, if you're not familiar with the name, 
Andaz
 is Hyatt's "cool" brand, with 10 locations in the US (four in California), and a smattering in other countries.  I see a growth trend and it is understandable as to why.
T
he top properties in our beloved wine country can easily top four figures a night (Meadowood, Auberge du Soleil, Calistoga Ranch, etc). Staying at a hotel with great bedding, amenities, service plus a location where you can actually walk somewhere wins points in my book.  As a side note, a previous stay there was planned for Thanksgiving 2014, but the hotel sustained quite a bit of earthquake damage and was closed for months. All is quite well now ..
A
 wonderful dinner was enjoyed with our fellow-foodie-cousins at 
Redd
 in Yountville, where we always savor the cuisine of chef/proprietor Richard Reddington. Obviously we were very engrossed in conversation — at the end of the meal, I hadn't taken any photos! Well, here's this one of our delicious dessert:
W
e reconvened for breakfast with a trip to Carneros Center on Old Sonoma Highway. This is an area we would likely have missed had we not been taken there.  Suffice to say, we were happy to see a different part of Napa as we have become creatures of habit on these visits and stay in a pretty concentrated area (Napa, Yountville, St. Helena) when clearly there is so much more to experience.  Breakfast at 
Southside
 was fresh, inventive and delicious — well worth exploring this local gem.
H
aving been to Napa on many occasions, it was fun to take a more relaxed approach in terms of visiting wineries.  In other words, not feeling pressure to take in a lot in a short period of time is a good thing so one can simply enjoy the area.
The day took us to two wineries:  
Peju Province
 and 
Biale
.  More is not necessarily better, and it was lovely to savor the time at each of these beautiful locations.
From the Peju visit, top are photos from outside the winery; above-it was a good day for red convertibles as we met up with a like-minded visitor; right is a terrific wine carrier (available at different wineries) that holds 24 bottles safely and securely for baggage checking.
       Near-ripe grapes at Biale Vineyards plus the
cutest book/savvy marketing available for purchase
A
 wise and decadent choice for a late lunch was at 
Gott's
 on Highway 29 for a delicious BLT and an insanely-divine chocolate/coffee milkshake — perfection with a straw. The picnic table seating offers a chance to sit outside and enjoy the scenery.
Aaaahhhhhhhhhhhhhhhh … 
We took the opportunity the stroll the downtown area of Napa during the evening, with absolutely no plan in mind and it was great.  Very relaxing, checking out the actual residents of the area on this summer night and, for once, not running here and there.  It was a total pleasure.
O
ur final full day took us to Sacramento (not much more than an hour from Napa) for lunch with the hubby's longtime family friends/clients and an overdue opportunity to catch up.   Afterwards, we headed south to Stockton for dinner with a friend/client from high school who moved to the area after college and has lived there ever since.   Two stops, two chances to find out about life in these two California cities, and two lovely meals with lifelong friends.  It was a great day.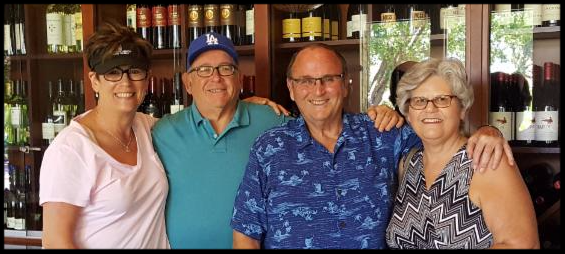 With Mike & Nita Thomas in Sacramento
T
he hubby would have opted to head home after the early dinner, but I prevailed and we spent the night in Stockton.  The drive home was a breeze and we were back in LA shortly after noon.  One needn't venture far — even though we often do — to see amazing sights when one is fortunate to live in California …
This is what a road trip is all about …
Are you thinking about going somewhere but are stuck getting started?
Do you need some ideas and/or expertise in planning your next adventure?
Instead of spending your valuable time, send me an email (travelwithterib@gmail.com) — and let me help you with all your travel needs!