A
fter a couple of wonderful days in Pebble Beach (read about that here), the hubby and I continued north.  
T
here is absolutely no question that a trip to the Bay Area incomplete without a meal at iconic Chez Panisse in Berkeley — always at the cafe. Why the cafe?  Just because I like the choice of what is offered instead of the typical fixed three- or four-course meal. Plus it just seems more casual … regardless, the food is always superb.  Read my post published in The Jewish Journal entitled 
"If You Had to Pick Just One"
 .. for my full take.
Since some of the Bialosky family settled in the East Bay, Walnut Creek was the designated spot for a group dinner.  There are a big selection of restaurants, and Maria, Maria provided authentic cuisine in a fun and lively (loud) setting. A night spent in Oakland was the easiest choice for our logistics so we proceeded to the downtown Marriott.  The hotel was fine, but $45 for valet parking (self park was just $10 less) seemed outrageous, and the personnel's justification that "other places charge that and more" did not begin to make their case.  After a "firm, fair and friendly" chat with manager, the charge was removed.  Sadly, the overall area has a long way to go in terms of enticing visitors, and I'll just leave it at that.
O

n to San Francisco where we had terrific accommodations at the Palace Hotel, south of Market (SOMA area) and part of Starwood luxury hotels. It is a great location and within walking distance to so very many places. I booked their AAA rate that included the $60 overnight valet parking. Having stayed at a number of high-end properties in the city, I wouldn't hesitate to go back to this one again and again … 
          Towering hydrangeas in the Palace lobby ..
On this beautiful summer day, we had a reunion lunch (childhood/high school friend) at Scala's Bistro on Powell Street (recommend!), briefly visited the refurbished SFMOMA, and had an incredible dinner at Boulevard.  I'm not sure why this was our first visit to this restaurant, but it certainly won't be the last.  After more than 20 years, the place was still packed and the food delicious. We were clearly in the hands of professionals.  Not so great was the walk to the restaurant from the hotel down Mission Street, where the very significant homeless problem in SF was unavoidably obvious.  If these folks could just be provided with public facilities, that would be a huge improvement.
| | | |
| --- | --- | --- |
| En route to SFMOMA via Yerba Buena Gardens | View of museum atrium from the outside … | And an inside view |
Boulevard dinner:  salad with melon and veggies; soft shell crab; entrees of trout and chop; divine desserts … if only I could have hidden a round of their amazing bread from Acme bakery in my coat, the night would have been complete!
| | |
| --- | --- |
| Only in SF or NY would this be considered a "bargain" | Ferry Building |
A
nd then there was a fun visit to IHOP (why not??) before heading to see the Oakland A's play the Toronto Blue Jays … but no point in going into this relic of a stadium.  We were just happy to spend time with our niece, nephew and their spouses before heading up to Napa — where this Road Trip deliciously continued!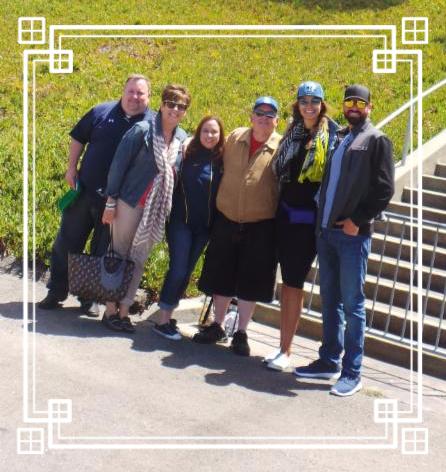 Someone must have yelled "lean" instead of "cheese"!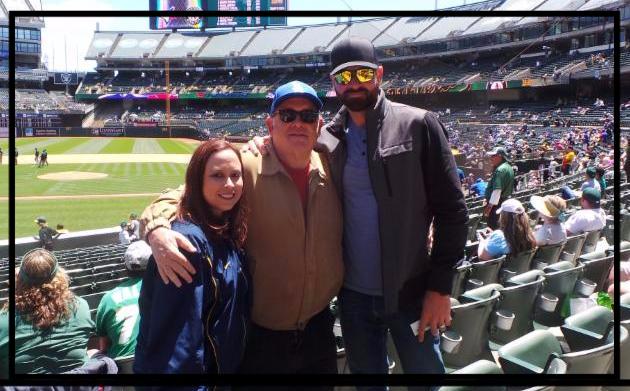 Niece Jen and nephew Mitchellhere