A
t
the end of a recent three-week European vacation, 
L
ondon was the last stop after winding up nine glorious days spent in 
Croatia
.  The most efficient way (and least number of flights) to get home from Dubrovnik is to go either Frankfurt or London, then get a non-stop to LAX.   But I couldn't find any reason to not stay over in London for at least a couple of nights, so that was the plan.  
A
fter arriving into Gatwick, I was most pleased with the car service 
Hummingbird
, found online.   I always love coming out of baggage claim and seeing someone holding a sign with my name … plus this method was less than a cab and far more enjoyable than dragging the bags on the train.  I was so impressed I immediately booked the service to take us to Heathrow for our imminent departure.
A
 last-minute hotel change was employed prior to leaving Dubrovnik.  I'm clearly all for five-star hotels, but it seemed rather a waste given the short amount of time we could enjoy our accommodations in London.  I cancelled the Mandarin Oriental Hyde Park (small room, inside view) for a points+cash Executive room at the 
JW Marriott Grosvenor House
 on Park Lane — half the cost plus access to the beautiful lounge for breakfast and snacks all day long.  One cannot beat this location even if the hotel is a bit on the "older" side.  It worked out quite well.   A side note is that I thought very expensive luxury cars were ubiquitous in Beverly Hills until I walked the streets of Mayfair and Belgravia.  Oh, my …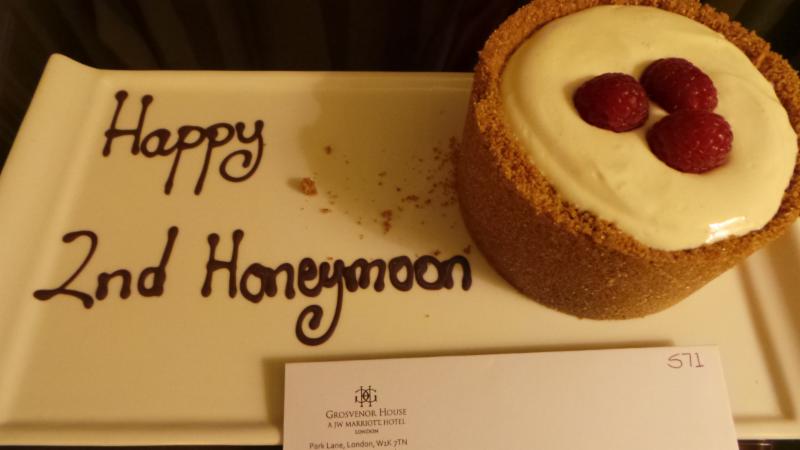 The hubby was only kidding!  But we did go to London on the original
honeymoon … BTW, best cheesecake ever.
F
irst stop was exchanging currency.  One must understand that living/traveling with a financial professional means one doesn't accomplish this just anywhere (i.e., must be no commission and a better rate than the previous place(s) checked). Of all places, we were sent to 
a post office/mini-mart that fit the bill.  Next stop was shopping because this is London and the end of the trip.  Small purchases — a scarf plus the best walking shoes ever — which saved my feet after a couple of hours of literally pounding the pavement.  Hard to believe that we have a "go-to" restaurant in London, but we discovered Orsini back in 2007.  We wouldn't miss it for the most delicious and authentic Italian well located across from the Victoria & Albert Museum.  
| | |
| --- | --- |
| | Westies worldwide are irresistible .. |
T
he evening was a double treat with a performance of the just-opened play, The Audience, starring Kristin Scott Thomas (Helen Mirren starred on Broadway and won the Tony). This is an expansion of the wonderful movie, The Queen, in which Queen Elizabeth has a weekly "audience" (conversation) with her Prime Minister.  The movie featured only Tony Blair, while the play has all 12 PM's that have served during her reign. Timing is EVERYTHING:  This was the day after the U.K. elections so Peter Morgan's script literally had to be rewritten the day of this performance for the act when David Cameron is on stage.  After all, he was not expected to win and his surprise and significant victory was well stated on stage with lots of knowing reaction from the audience.  If you enjoyed the movie, you will love the play — complete with a couple of the Queen's beloved corgis making an appearance onstage.
F

or the proverbial "last supper," I booked L'Atelier Joel Robouchon after the show — a short walk from the theater. In the U.S., one would need to go to Las Vegas or NYC (soon to open at the new Ground Zero building) to experience this amazing food.  It was perfect.  Alas, no pix as I forgot the camera but the atmosphere wasn't conducive for photos.  We had excellent seats at the counter with the kitchen in full view.  For a place with quite serious food, the staff was so friendly and helpful.  And after the hubby paid the chef a compliment, he promptly "organized" our last courses with his compliments — a variety of cheese followed by three desserts!  As if I hadn't already contemplated walking across the Atlantic after so many incredible meals in the past weeks, this nearly sealed the deal.
O
f course no trip is complete without one "ooopsie," and that was waking up on the final day to an email that our flight home was cancelled.  No worries, American had rebooked us on British just two hours later.  That was the good news.  The bad news was that our window seats — just one per row on each side — had become two (way) inside seats.  I don't want to seem spoiled, but I had planned on an uninterrupted rest and instead had to climb over the outside seat. These were still Biz Class with all the benefits, but I can only think the layout must have been engineered by a contortionist.
S
o what are the final thoughts?  It is an extreme privilege to see the world and then come home safely to loved ones with the memories and stories.  As always, my last task is packing up all the hotel toiletries and shipping them to 
Operation Gratitude
 for inclusion in care packages to our troops around this glorious world.