T
o complete a wonderful 9-day stay in Croatia, the fitting last location was Dubrovnik following stays in Split and Zadar (see previous 
post
).  The drive from Zadar takes 3+ hours, and the winding highway goes through the 
smidgen
 of coast that Bosnia must have demanded when the former Yugoslavia broke up into several countries. After being waived though a border crossing, we proceeded to the coastal road when we decided to stop for lunch in a town called Neum.  It wasn't until we were paying for lunch with Croatian Kuna and the waiter brought us change that we realized we were actually still in Bosnia (it was the Bosnian currency that was the tip-off).  And the lunch was delicious — my fish was caught that morning in the local waters so it doesn't get much more fresh than that …
F
inding our hotel in Dubrovnik was a bit of a challenge as most of the city is built into the side of the mountain with very windy and narrow roads. "Narrow" in this case means it might be a two-way street but only one car can fit at a time. To say it was worth the journey is a huge understatement. The 
Hotel Villa Dubrovnik
  can more than hold its own against any of the gorgeous hotels along the Amalfi Coast for essentially half the cost (a good thing).  And then there is the view …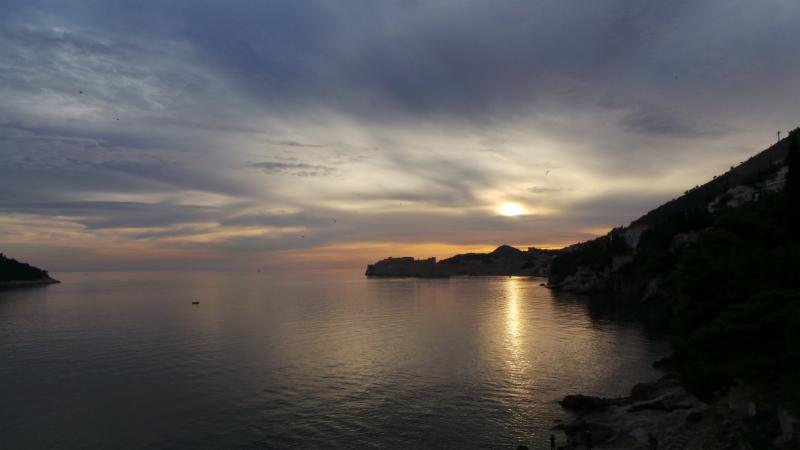 Two views of the old city, both taken from our balcony.
The old walled city of Dubrovnik was an easy 10-minute walk from our hotel and, once inside the gates, there are myriad choices of sidewalk cafes, gelato shops and plenty of other types of shopping available.  For the first dinner, we went to Restaurant Wanda which is owned and operated by a Dubrovnik native who spent many years in Los Angeles, most notably at Locanda Veneta.  We have mutual friends in L.A. so we were treated exceedingly well and the food is just delicious. I absolutely went crazy for a native Croatian wine and the linguine and clams were about the best I've ever had!
Clockwise from top:  Eggplant Parmesan; Fettucine with Croatian Clams;  Dingac wine;

with Owner/Chef Goran Starcic
D

uring the planning of our Croatian itinerary, we were fortunate to have the guidance of Los Angeles restaurateur and Montenegran native, Goran Milic — owner of the wonderful 
Divino Restaurant
 in Brentwood, who provided great help. As an added bonus, Goran "volunteered" his brother Davor to meet us in their hometown and show us around some beautiful parts of Montenegro during our day trip there. Not only did Davor give us the guided tour, but he provided us with a freshly-baked made treat from his mom's kitchen that we enjoyed later in the day.   
M
ontenegro is an easy drive of less than one hour from Dubrovnik.  Had we not encountered the misfortune of being behind a car from Albania at the border crossing, we would had made it through quickly.  But those pesky Albanians have the reputation of questionable activity, causing literally every inch of their vehicle to be closely inspected.
M
ontenegro 
is a small country, both in size and population (approximately 600,000), and has not benefited or advanced nearly as much as the other countries that were collectively Yugoslavia.  Nevertheless, it is beautiful, especially all along the Bay of Kotor where we drove after meeting Davor in the Milic hometown of Hercig Novi. We were thankful to have their help and good advice to enhance our stay!
We followed the water from Herceg Novi to Tivat
With Davor
Bay of Kotur
Baseball fans (one very tall from Oregon) always find each other.
Our last day in Dubrovnik was spent browsing around, and included a visit to a wonderful exhibit of Salvador Dali art, plus lunch at a local yacht club outside the old city.  After taking in the sights, it was time once again to organize the suitcases for the following day's flight to London.  Happily our last Croatian meal was at Konavoski Dvori, sort of en route to the airport, but a place one wouldn't just happen upon. The patio tables are next to a beautiful stream with low waterfalls, and the trout I enjoyed was from one of their local pools.  I highly recommend this restaurant and, for that matter, pretty much anywhere in this sensational country …
Top row:  Walking into the city plus one more view from our balcony.
Next row:  Lunch dishes included a wonderful soup, trout and veal
Below:  All of their meats are roasted in the spit; trout swim happily "before" …