"I
think we're landing in Zambia!  I didn't know we were going there!!"  And that was the entry to stop #5 on our African holiday (click 
here
 for previous). I knew the airport destination was called Livingstone (as in "Dr. Livingstone, I presume?"), but the Zambian part was a surprise.
It was a very short and somewhat costly stay.  Between the entrance visa paid at the airport, and then the additional fee paid at the border between the two countries, it was under an hour and about $220. Good news is we were ably met and guided (all pre-arranged by &Beyond) by Joseph for the Zambian part, and then handed off to Tinus to make sure we and our bags made it safely to 
The Elephant Camp
 in Victoria Falls.  The tariff for the Zambian-registered vehicle to continue over the border would have been prohibitive so this plan was employed.
Crossing between Zambia & Zimbabwe
First sight of the falls on airport approach above; view below from our terrace with the spray shooting up.
A
nnie & Brad White are the general managers of the camp (like pretty much everything else in the area, part of 
Wild Horizons
) and welcomed us upon arrival. We were shown to "tent" 3 — sitting area, king bed, en suite bath, deck and plunge pool.  While considered luxury accommodations, these were 
very
 different than the two camps in South Africa, and about as close to camping as the hubby and I want to be at this stage in our lives — for me, maybe ever.
Above: our tent

below: looking around to the deck and plunge pool.
T
o give some context, when my sisters and I were young, we went on a family trip to Yosemite National Park.  The first time our dad had an insect encounter, we packed up and headed straight to Las Vegas. Not much has changed .. we are clearly not the camping types.
T
he Elephant Camp staff was terrific nonetheless and put up with the hubby's endless banter and attempted jokes so that's a very good thing. In particular, there was assistant manager Moses who the hubby 
 kept calling "the leader of our people." And no doubt the biggest challenge on this brief stay was "mosquito abatement" — regrettably nothing we had (spray, wristbands, etc) did much good.  Mosquitoes were the clear winners in this battle.
At left:  those are towels folded in the shape of an elephant's head and trunk, holding a welcome note …
Pinpointing our location …
We had a wonderful encounter with Sylvester, a 7-year-old cheetah who was lucky to have been rescued after his family was killed.  He has been raised "domestically" and walks around on a leash.  I guess he was ready for a nap … all 170 lbs of him. 
We were so fortunate to have a guide by the name of Vusa lead us on our tour of the area.  Learning English is compulsory in his native Zimbabwe, and his was beautiful and articulate. We learned he previously had been with &Beyond where he met and subsequently married Thembi who works both as a masseuse and in guest relations at another area hotel. They have two young sons. I tell you this because no matter
| | |
| --- | --- |
| | |
|     Vusa and Thembi | |
where we go, the life challenges are the same for most all when it comes to child rearing and relationships. Vusa even helped us navigate the gifts purchased from "Mr. Discount" outside of the falls.  The hubby had fun with that negotiation …
| | |
| --- | --- |
| | Ode to Dr. Livingstone at left; above is one of the many rainbows visible through the spray |
Left:  view of the lower area.   Those ropes suspended above the water are for the daredevils (clearly not us).

The photo above shows the contrast in the landscape just outside the spray's reach.  Dry as a bone .. Near the spray was a rain forest.
Above is a Vivid Monkey — so called because his "bottom" (not really the name of the body part) is an absolutely gorgeous shade of blue.
Above is a baby baboon whose family was very close by (she didn't appear to have "permission" to venture far)
Four countries converge near Victoria Falls:  Namibia, Botswana, Zimbabwe and Zambia.  The falls straddle the two "Z" countries from the Zambesi River, which is the fourth longest in Africa after the Nile, Congo and Niger.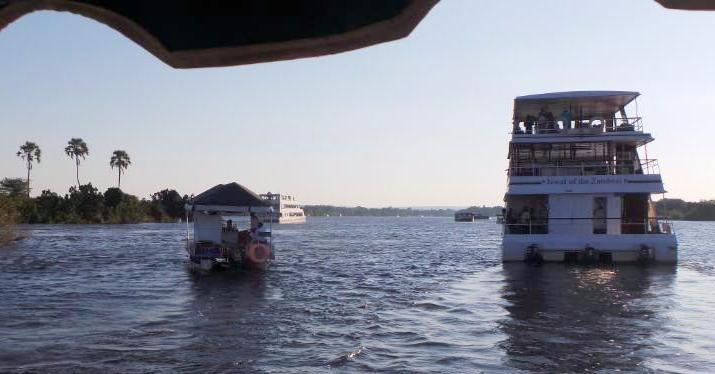 "Rush hour" on the Zambesi River — on our sunset cruise
Male of this pod showing he's boss
A
s for us, this post was mostly written while sitting in the very modern Victoria Falls airport, eating pizza and waiting to depart for Johannesburg — flight time a mere 1-1/2 hours (south). To be continued …