The lead-up and anticipation prior to a safari is exciting and filled with anticipation.  One can look online and talk to friends who have been; experiencing it first-hand is an entirely different story.
T
he third stop on this African holiday took us north after our the wonderful days in the Cape Winelands (see previous 
post
). One could call Hoedspruit an "airport," but it's really nothing more than a series of connected landing strips and a small building surrounded by fencing to keep the animals out.  Rudi, our guide for the next couple of days, greeted us and handled our duffels (in keeping with the reduced baggage allowance).
Can't you just see Simba on
that cliff??

Deplaning at Hoedspruit

Quite the modern technology;  kind of like the scoreboard at Fenway Park

With Rudi, our guide for the stay who also does airport runs
F
orty minutes later, we were warmly welcomed at
Royal Malewane
by the GM and assorted personnel with a cool towel and tropical drink. This safari camp is also part of
The Royal Portfolio
; after our stay at their sister property in the wine area of Franschhoek, we knew we were in for a treat.  Lunch on the terrace (with buffalo in sight) included orientation, and then we were off on our first safari drive. Nothing is mandatory in the schedule, of course, but it would seem rather silly to come all this way and not participate.  The 5:30 a.m. wake-up call for 6:15 departure may sound a bit like boot camp, but I've never known one with luxury accommodations, service and cuisine.
Quite the welcome ..
Beautifully and warmly decorated accommodations.  We were free to walk to our room during the daylight, however guests must be escorted by camp personnel after dark … lots of critters around that might not be friendly.
Hangin' outside the camp kitchen; couldn't care less about us;
below: looking out to the grounds from the spa area.
W
e were in luck right off the bat, with a number of giraffe, elephants and rhinos all congregated around a mud hole.  Sage advice was proffered:  … 
don't
 miss the experience of being on safari by being glued to whatever device you are using.  Cells were allowed for photos only but had to be on mute. The high point was a rare sighting of a black rhino; only about 20% of visitors are able to do that. To us lay people, the rhinos (black and white) looked pretty much the same — the name has nothing to do with their color…
Honestly, he looked the same to me .. we were told the mouth has a different shape than the white rhino.
They love a good mud bath …
T
he days are long.  Coffee and a light bite is served prior to the first drive of three hours or so.  A beautiful breakfast awaits on return, and then the day is free to do as you wish (exercise, spa visit, etc).  The afternoon drive heads out at 3:30 and dinner is served after the return.  There were candlelit terraces one night; a short drive to a tent the next where we were greeted with champagne, traditional African dancing and buffet. Every wine and spirit is available, and the staff is always quietly present.  They really serve "with pleasure."
The lighting is extraordinary; once the sun set, it seemed like every star in the sky was visible
Cocktails and snacks at sunset on the drive
W
hen one thinks of staying in a hotel, typically included is daily maid service, with the next level being turn-down upon request, then to automatic turn-down plus maybe some amenities in the room. Then there are these camps where (invisible) staff were in the room every time we left –sometimes four or five times each day. Oh, and laundry is beautifully washed and ironed — at no charge.
T
he primary goal of going out on the drives is to provide guests with sightings of the "big five" — originally so designated as the most difficult animals hunted on foot, but now regarded as the most desired to be photographed by safari-goers.  They are: African lion, African leopard, Cape buffalo, black/white rhinos and African elephant. Expert ranger Rudi, along with tracker Jonas, led us for all of the drives, and they were extraordinary.  Sightings cannot be guaranteed. But with cooperation via short-wave radio — not only with our camp's other vehicles but with neighboring camps as well — information is shared regarding the best direction to see the animals.  The experience was remarkable. Some animals were more cooperative and abundant than others which can merely be a matter of timing.   The pictures tell it best….
Zebras, although there they are called Zabras (long "a")
That's what happens when you don't listen to your mama.
The vehicle at top indicates how close we were.
Hippos were a frequent sight outside the water — a prolonged drought is not giving them much choice.
Talk about having a target on one's back …
one of the many types of antelope
The experience in the vehicle is akin to "Transformers" — up, down and through steep terrain.  Jonas is using a machete to cut through brush to get us closer to a leopard.
The birds aren't just along for the ride; they are performing a service by removing ticks from the rhino's back.
Analyzing tracks so as to find animals for us to view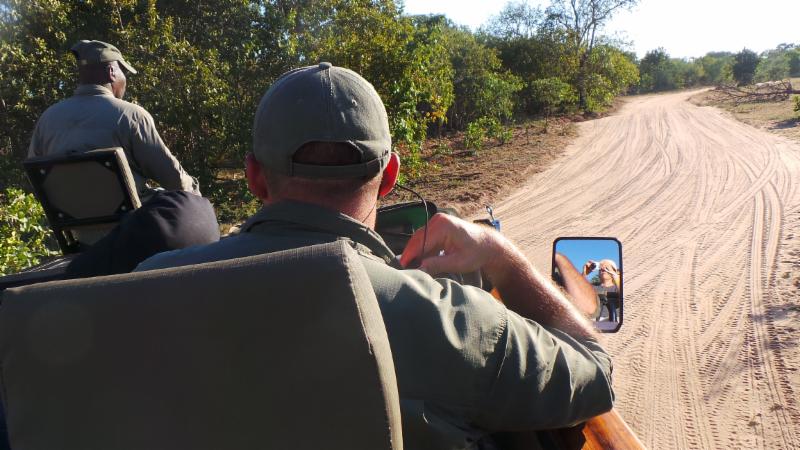 That's me in the mirror — forever taking photos.
Candlelit dinner on the terrace
| | |
| --- | --- |
| Above, the greeting after we were driven to a tent for dinner; menu at right. | |
Sisters?  Girlfriends?  Not sure about these two beauties.
The elusive leopard — very hard to see in the brush.  This young lady was about 18 months old.
Our very compatible group: Bonnie & Jay from NJ; newlyweds Major & Marta from Cabo; with Rudi & Jonas
We HATED to say goodbye …
N
ext post: we head two hours southeast to private game reserve Sabi Sand to stay at Londolozi.  We vowed not to compare the game viewing with this stay in Kruger, but I'll weigh in on the difference in the accommodations, etc….