I
f ever there were an oasis in the middle of a big city, then
The Saxon Hotel
in Johannesburg is the perfect example.  Frankly, I'm hard pressed to find anywhere that I'd rather not leave … ever.  So if you can't find the hubby and me at some point, check this spectacular hotel first. Indeed, I declared in a previous post that I was never
leaving (in the 
Cape Winelands
), but that only reinforced how many incredible spots there are to enjoy in South Africa (click for previous posts).
T
his hotel has major provenance as it was where Nelson Mandela stayed after 
his prison release, and where he likewise stayed while writing "The Long Walk 
to Freedom."  His presence can be felt everywhere on the premises, owned 
by South African insurance magnate Douw Steyn.  The hotel was previously 
Mr. Steyn's personal residence in the Sandhurst area of J'berg.  For a bit of 
context, my daily commute in Los Angeles regularly goes through some extremely 
pricey real estate.  NEVER have I seen such huge estates as exist in the hotel's 
area — with walls that are at least 12′ high on top of which is barbed 
wire, plus massive gates with manned security booths prior to entry and guards 
on top of that. Not sure if that is a status symbol or an unfortunate statement 
about what is necessary for protection.  Our driver Mpho told us things have gotten 
better in recent times …
Beyond those walls are extraordinary estates …
W
e had two nights at the hotel — book-ended by four nights in Mauritius (read 
here
), and would have loved more time to just soak it all in.   I would route a future trip via J'berg just to go back …
View of the beautiful grounds above.

At right, part of the indoor "courtyard" with the pool and the koi pond in the foreground.  No question the koi are treated better than many humans .. some were nearly 20 years old and enormous.
Top R & L: Salmon on pea

risotto and everything strawberry dessert at Qunu for dinner;

Above: tea and champagne in the room; Right: Turndown with rose petals all around .. 
Hotel restaurant Qunu's very elaborate setting.  The Saxon also houses the second outpost from Chef Luke Dale-Roberts, whose Michelin-starred restaurant in Capetown — The Test Kitchen — was a trip highlight.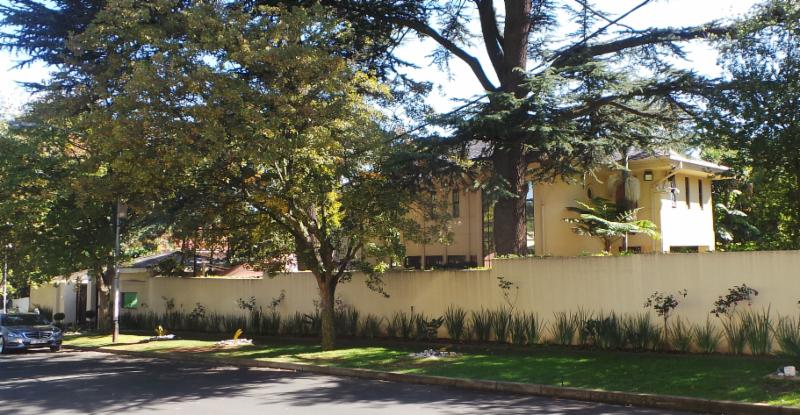 Last home of Nelson Mandela, where his widow still resides.  Below is one of the innumerable stones outside the property where people from all over the world come to pay their respects.
A
s for the journey home, I was very happy to find biz class seats using AA miles on Cathay (a One World partner): Johannesburg to Hong Kong (12 hours), then on to LA (13 hours).  It was a no brainer to spend the six hours in Hong Kong zipping in to the Kowloon side (30 minutes via taxi) for a pre-arranged appointment at Sam's Tailor on Nathan Road.
I

'm left; he's right — a little separation after




 22 days of 24/7 was due …




W
e landed in Hong Kong at 6:30 a.m.  After a heart-stopping separation in route to customs — the Hubby walks way too fast for me; he went one way and I the other (both towards Immigration counters) — we finally reunited with a bit of "finger pointing."  I can't even imagine the scenario if I had to page him … "BY-A-LOS-KEEEEY" !!!
A
ll was well after a brief respite and breakfast (who cares about the $$$$$) at the amazing Peninsula Hotel while waiting for our appointment.  Less than an hour after arriving at the tailor — including four different people taking measurements and the inevitable conversation about U.S. politics  (people asked EVERYWHERE), it was back to the massive Hong Kong airport.  
I wouldn't even try to wrap my brain around the time change.
Yep, our bodies are screaming:  IT'S 2 A.M. & I NEED SLEEP!
At Sam's Tailor on Nathan Road
A

nd then we were home … many movies, several meals and a couple of naps later, and once again enriched from so many wonderful experiences.
The first thing every person sees upon exiting LAX International terminal …
a precious sight.
Are you thinking about going somewhere but are stuck getting started?
Do you need some ideas and/or expertise in planning your next adventure?
Instead of spending your valuable time, send me an email (travelwithterib@gmail.com) — and let me help you with all your travel needs!