B
aseball is back! Yes, I know the season started a week ago, but the Boys in Blue had away games until yesterday.  I haven't missed an Opening Day at Dodger Stadium for years and years.  Remarkable? Only if you consider I paid ZERO attention to the sport until I met the hubby .. in fact, w
hen he "informed" me baseball would be a big part of our life together, my response was likely "ugh" or "seriously??"  I am a true convert; in fact, I watch games even when he is not around.  I have been to a total of 35 MLB stadiums (counting both old and new parks) — PLUS attended games in both Tokyo and Seoul! How is that for a seriously converted fan???
W
hat's that you say??? 
B
oring … zzzzzzzz.  I will let you in on my secret to sitting through about 18 Dodger games each year, plus whatever post season there might be (hey, anything's possible!).  Ready? Bring reading. That is my saving grace.  
I can watch the game but still get a lot done between innings or pitching changes. Unless we are entertaining guests and that might be construed as rudeness, I show up with books, magazines, sometimes a tablet plus my cell phone (with back-up battery).  Even if I am immersed in something, the minute I hear the crack of the bat I can instantly look up and not miss anything.  It is a beautiful system.
M
y other secret weapon is having EDIBLE food at the game, which usually requires bringing my own. The Dodger organization is pretty good, but the hot dogs just stink — even though they outsell every other MLB park.  Ugh.  At least last season, we got 
Jeff's Gourmet Sausage
 way out in right field.  Hot, snappy, fresh grilled and Kosher (which means a lot to many at the park), plus downright delicious.  But you could easily miss a full inning 
making the trip there and back.  
I just find somewhere to sit by a monitor and enjoy my dog before heading back to my seat..
F
or this year's home opener, the Dodgers began what will most certainly be their year-long tribute to the great Vin Scully who retires at the end of the season. Instead of the traditional first pitch, the pre-game festivities announced Dodger royalty who proceeded to the plate, including Fernando Valenzuela, Orel Hersheiser, Don Newcombe, Hank Aaron (Vinny called his record-setting home run), the inimitable Sandy Koufax along with the current-day Sandy, aka Clayton Kershaw, Maury Wills, Tommy Lasorda, and, of course, Vinny.  Sandy and Vinny hugging in the photo below is an image for the ages.  A memorable day, save for the final score … but it's a very long season.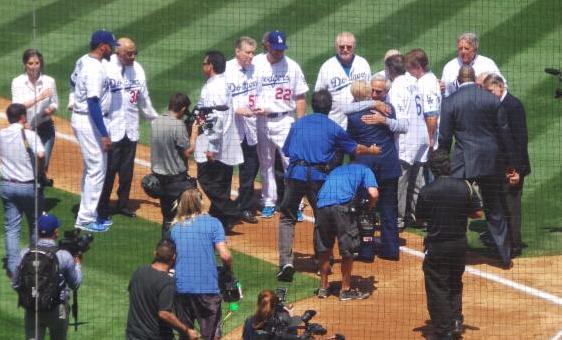 I
've written before about not traveling during the summer when everything is crowded, with prices higher and the hot weather, but seeing various stadiums would require setting those challenges aside.  A few of the stadiums I've yet to see:  St. Louis, Detroit, Cleveland, the new Cincinnati and Pittsburgh could all be done on a strategic driving trip. 
                   Starting at St. Louis (1), then Cincinnati (2),                    Detroit (3),   Cleveland (4) and Pittsburgh (5)
Also synonymous with April?  The Final Four, Easter and Passover (usually), the end of tax season, a big trip somewhere, spring flowers, and baseball … what a great time of year all around!